Friday, December 1st, 2006
---
6:29 pm
- Dedicated to my man, Ferrari
Tuesday, November 14th, 2006
---
1:39 pm
- Interviewing and Unemployment
I still don't see the Myspace blog ever over-taking the wonders of Livejournal...with the simple click of a button, being able to see all your 'friends' blogs...Let alone the weird alien faces for Current Mood....So I shall post this here as well.



Interviewing and Unemployment:

So, I've been collecting my sick 405 dollar a week unemployment check now for about a month and a half, all the while interviewing with prospective employers.

Interviewing with different banks has just become an excuse to wake up early and shave the chin dirt that has accumulated on my face since my last interview.

Banks all give you the run-around when interviewing with them. I've catered all my answers to their questions perfectly, and try to throw my B.S. answers to companions also in the job search. (I'm not looking for a job, i'm looking for a career, and I feel XXXXX can offer me just that.) And they all eat up my answers; with my phony businessman laugh and my corporate jokes; the rapport is undeniable.

The banks that I've interviewed with all seem to want to hire me on the spot for less money than I make in my unemployment pay. (circa 25-30K per anum); Keep in mind this would be roughly a 40-45% pay decrease from what I was earning at my previous employer.

I do recognize however that I do not have a roofing job to fall back on, and any gap on a resume looks horrific; so, am I to settle for 25K a year and continue living with Camille and Richie til I get promoted? (Which all banks have promised would happen in the near future given my credentials) Or do I keep growing the gap while I search for more suitable employment, that will best utilize my skills?
It is quite a predicament...And how do I cope?

Simply by booting up MLB 06: The Show and getting my man Carlos Delgado his 25 HR on the season.

I still believe, aww gawd.

current mood:
Weird Muhfukka
Tuesday, May 30th, 2006
---
8:39 pm
- Turbulent Septembers...
Time spent in the graveyard
Face to face with sin
The apparition guides you
To a resting place within
Fireants beside you
I'm yearning for your flesh
The afterlife divides you
A sacriligous creche

current mood:
Turbulent Septembers
Sunday, February 12th, 2006
---
10:01 pm
- Hey!...That's my dad!


So, blizzard of '06.
Spent the day studying for my Series 63 exam. You know, the state exam that will finally allow me to sell securities to the unknowing public. I take it tomorrow and just KINGED an 81% on the practice exam. We are sooo ready.

Other news, walked up to the ave in the snow to find some old dude skiing.
I know i shouldn't have taken a picture considering he probably had alzheimer's...and his family was probably out looking for him....
but, god...
you gotta love bay ridge...

-Nb
Saturday, February 11th, 2006
---
1:58 pm
- Pink Panther


Although the theater was sold out, and we had reserved our tickets, and we had to sit in the second row all bent and twisted staring at the screen....I wouldn't have wanted it any other way.

Don't you find it odd that the victim fell perfectly within the chalk outline on the floor?

Sure there will be those from the baby boomer generation that will say that this movie was no match for the originals, and all that stuff.
For example, Mr. Roger Ebert couldn't even give it a chance because he kept comparing the movie to Mr. Seller's original. Reminds me much of the initial reaction to Steve Carrell's THE OFFICE. But if taken with a grain of salt, and with a deep-love for steve martin after sitting next to him at a SOUTHAMPTON beach, I give this at least ***...
But then again, this is coming from someone who's watched the spice girls movie 64 times, and who hated the 40 year old virgin...and laughed twice at Wedding Crashers...
Tuesday, February 7th, 2006
---
8:11 pm
- Fashion Week


Caught right outside work on my way to CARMINES for a two hour power lunch....

The FACE of Fashion Week.
Sunday, December 25th, 2005
---
9:30 pm
- Xmas...in one picture


Rocking the collateral, nicky too sticky celebrates another success...


Merry Xmas to one and all.

-n2s
Monday, December 19th, 2005
---
11:12 pm
- I'm just speaking from experience..
This week has been a blur of parties, booze, and 20 dollar bills being flung around like fukkin...ticker tape.
Thursday night was the HSBC party; perhaps the night is best described through picture:


Although it was open bar, i only had one beer.
They played all the hits...including my special request; BO BICE!

Friday night was another HSBC party.
This time my old branch on 92nd street. Yes, this branch still loves me although I haven't worked there in 7 months...I guess being the coolest teller ever makes a branch grow attached ;-)
It was quite a wild night...Even the wifey joined in on the fun.
Maybe i had a little toooo much to drink. Hey, it was open bar! and either way it was fun; Let's see...
As soon as I walked in;
a Yellow shot. (Whatever the hell that was) then it was on to:
The Silver Bullet
Sex on Beach (Thanks maryellen)
Malibu Bay Breeze (Thanks maryellen)
The Silver Bullet
Shot of Tequila!
Shot of Yager!
Someone's Vodka Cran (hey, no one else was drinking it!)
Someone else's purple drink (hey, no one else was drinking it)
Shot of more yellow stuff (what the hell was that?)

...all this on an empty stomach.
Went back home and watched Everybody Loves Raymond...
and although I saw about 400 tvs blending into one, and although the room was spinning uncontrollably, I still remember the episode...
And in about an hour I had sobored up for the most part...although it could have been a good excuse for what was said later that night. ;-)

Without time to recover from the actions of last night, I woke up at 10:00 without a hangover and got a cousin John Haircut...And off into the city to celebrate a co-worker's birthday.
Me, the broad, and about 15 chinese people who I had never met before...
One would have thought that social disorder would have kicked in...But we surprisingly bonded and took comfort in "those guys"...
We were just..."Oh, those guys over there in the corner"

After dinner we hit up the CHINA CLUB HARDCORE! Man..what a night! Of course more booze (including a bottle of Cristal, son!)
They were playing all the jams...and even mr. rogers was busting out a few moves!
Jay-Z and that Indian dude totally burned down the house!!! If that didn't, then the pot surely would have.
Around a quarter to 2:00am, we peaced out and hit up the BRYANT PARK HOTEL...
Hey, it was only $340 for the night!
And what a night it was!
Perhaps a picture of the futon would best help the reader understand: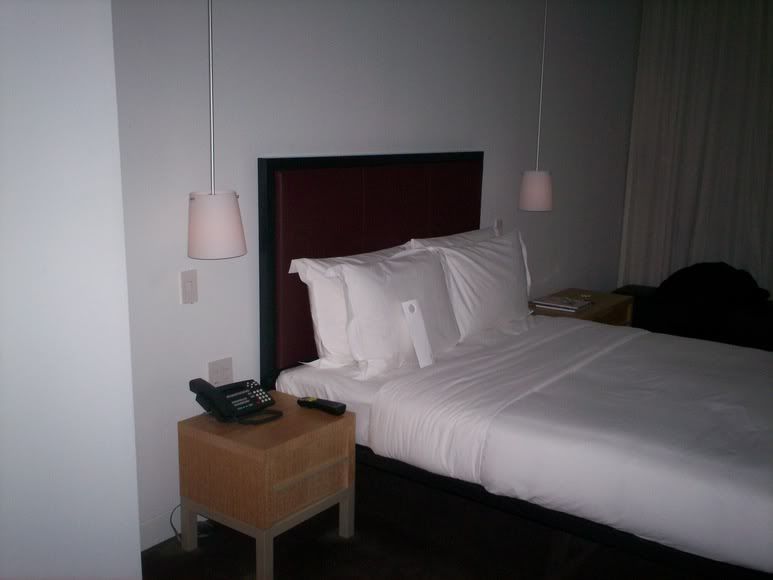 Had to rush out of the hotizzy before they charged us more for not checking out...
Then, back to B-Rizzle for a breakfast fit for a king.
Man....That was goooood!

In short, the past few days have been a blur of alcohol and excessive spending...
I think a few people really got to see just how we HSBCers do things...As the GIMMER put it;

"drinking, eating grapes, and shit"

Yes, this is my life.....
Saturday, December 10th, 2005
---
5:24 pm
- HOUSED from browniegirl
1. Hot Chocolate or apple cider? Hot Chocolate baby!

2. Turkey or Ham? White meat...and some ham to boot.

3. Do you get a Fake or Real Christmas tree? Real, even tho i'm allergic and it makes me break out into hives by January 1st.

4. Decorations on the outside of your house? On the windows of my 1 bedroom apt, maybe...

5. Snowball fights or sledding? Buried alive wrestling matches...

6. Do you like hanging around the fireplace because it's warm? because i know WICKED amounts of people with fireplaces...

7. Do you enjoy going downtown shopping? Only since i've been getting paid...i think i will tho!

8. Favorite Christmas song? Christmas Wrapping--The SPICE GIRLS!!!!

9. How do you feel about Christmas movies? I hate them all! I don't see what's so great about that movie where the blonde-haired kid gets a beebee gun, and the father gets a lamp that's shaped like a leg...Everyone else says "OMG, it's like...the greatest movie Ev-er!
The clay-mation Rudolph & co rock my sox tho...

10. When is it too early to start listening to Christmas music? It's never too early...i'm blasting Christmas, Please Come Home in JULY.

11. Stockings before or after presents? Stockings are definitely an appetizer....Although i've only had two years where stockings were involved..

12. Carolers, do you or do you not watch and listen to them? Never had that opportunity...but i'd probably kick them.

13. Go to someone else's house or they come to you? Who wants to spend xmas in a one bedroom apt that smells like raddish?

14. Do you read the Christmas Story? I wasn't aware that there was a xmas story...

15. What do you do after presents? Hurry up and cram into a car headed towards staten island

16. What is your favorite holiday smell? The cold air

17. Ice skating or walking around the mall? Ice-skating in the mall

18. Favorite Christmas memory? ...when we used to be a family...

19. Favorite Part about winter? that xmas spirit

20. Favorite Christmas decoration? Disney's The RESCUERS.

21.Lights...colored or clear???? on the tree? Colored...blinky if you have them.

22. What is the best Christmas gift you ever received? G.I. Joe's the general...although the electric guitar a few years back wasn't TOO bad....

23. What is your favorite Christmas tradition in your family? getting into drunken arguments, then driving home in a zig-zag pattern

24. What is your least favorite thing about the holidays? same thing.

25. What is the one thing that you would like to see under the tree this year? the last few years of my life...

26. What is your favorite thing to do/build in the snow? i made a pretty sweet snowman a few years back
27. What is your favorite holiday drink? i think this year, it's gonna be the silver bullet...

28. Who is your favorite reindeer? how could u not love rudolph!

29. What is your Christmas Eve ritual? Counting down the hours til it's christmas...then realizing...wow, this christmas is gonna suck.

30. Are you a Friday after Thanksgiving shopper? I was this year..didn't work out too well...I bought a pack of gum...same price.

31. What is your favorite holiday food? Sweeeeet Potatoes!

32. When did you find out santa wasnt real? ....what do you mean?

33. Who do you want to be under the mistletoe with? i guess i should say my girlfriend if i want gifts from her, no?

34. Have you bought all your presents yet? it's christmas eve and i've only wrapped two fucking presents...

35. Do you spend Christmas with a lot of family? "Rick, take a picture of me and the plumber..."
Sunday, December 4th, 2005
---
1:51 am
- Anyway you want it, that's the way you need it....
No, it's not Toyota's Employee-Price Discount week....

It's Journey- The Essential.

It's kind of odd to think that I saw them in concert this summer....Quite absurd. But I gotta say the last hour or so of the concert blew us away. Yes, I went with the Ferrari, the Gimmer and Nick Lachey.

Steve Perry is the man....and the bootleg Perry front-man isn't half bad either.

There's something about blasting "Anyway you want it" in places that it shouldn't be played that I just find humorous...Like the lobby of my apt. building...

Anyway, enough about JOURNEY.

I never knew electronics could bring someone so much happiness...
I sit here, after spending a day taking pictures with my new digital camera, typing on my laptop while listening to Journey on my IPOD. What has become of me?
HSBCizzle is really hooking up their employees so they can spend their obscene amount of discretionary income on unnecessary appliances.

Tomorrow I promise I will study for my SERIES 6 Examination.

In other news, It's way too cold outside to do anything. I passed up getting hammered last night because it was too windy. I could have been networking with my fellow employees and crossing the HR line all night. Instead I stayed home, argued on the phone and went to sleep.

Wintertime is a-always the worst for me...


......................................................And then the weather gets no better
..........................................................And I am searching for her letters
..................................................................And every minute lasts forever
Thursday, December 1st, 2005
---
12:05 am
Like Jessica Rabbit, she collects bad habits
Gets her drinks for free.

I went to go see the tree lighting in Manhattan after work.
Apparently, however, myself and my two co-workers were not the only ones with that idea. It was Craaaaazy. After pushing and shoving and trying to meet up with each other, we decided to FT and go grab a drink at the local pub and watch it on the big screens.

Rod Stewart aged well.
He still rocks my sox. Some guys have all the luck.

We didn't even stay at the pub for the lighting...we got there around 7:00, peaced out around 8:45...After we saw the Goo Goo Dolls lip-synching we kinda called it a nite.

What does tomorrow have in store?
I'm gonna be playing more grabass instead of going to work...."Special Projects" rock my sox.
What a tough life....I seriously need to study for this Series 6 Examination....i'm sure i'll get around to it this weekend, amidst the alcohol, laptop, Ipod, wireless connection, GTA San Andreas, Resident Evil 4, etc....

Until then....


P.S. Anyone know what the "essential" coldplay songs are to have? Although not a fan, I've recently discovered a few sites that will happen to fill my IPOD up quickly...I figured, what would an IPOD be without coldplay..even though I know nothing about them.


Drop me a comment, and maybe i'll tell you where to go to DL good ol' 90's full albums, like The Gin Blossoms ;-)
Tuesday, November 29th, 2005
---
11:36 pm
- Honestly...
So, I totally sold out and bought an IPOD today...because you know...I had an extra 325 dollars lying around. Rocked it on my lunch break from work. Atlantic Terminal in Brooklyn Rocks my Sox.

To say you're wrong is not enough...
To cover up the pain in us.


It's the 30GB video IPizzle.
I just might have to DL that U2 video that's in the commercial...You know the one...
::horrificall off-key::
"Do! Do! Do! Do! Do! Do! Do!...Sugar, come on!"

I threw on the essential today. You know, some 3eb, JM, Dashboard, Seven Nation Army, as well as some forgotten about songs; Wallflowers 6th Ave Heartache, OASIS Wonderwall...and of course the obscure: Rod Stewart Some Guys Have All The Luck.

With the latest YOUSENDIT subculture taking over my life, and my new found high speed wireless access, this Ipod is gonna be tricked out in no time.
Today alone in a matter of 3 minutes I downloaded Goo Goo Dolls "Gutterflower" and Smashing Pumpkins Greatest Hits.

And although at the end of the day I probably will never listen to STAIND's filler songs on Dysfunction, I can at least say...Hey, I downloaded it for free in less than a minute...and I have 7500 songs to throw onto my ipod. So who is really losing here?

No work tomorrow. Instead I'm gonna go to the tree lighting in Manhattan.
Maybe I'll touch Sheryl Crow's shoulder...
or at least Harry Connick Jr's.


I probably should be studying for my state exam, but instead i think i deserve some R&R as well as some self-splurging.
Sunday, November 27th, 2005
---
8:52 pm
Yes she caught my eye
As I walked on by
She could see from my face
That I was fucking high.

And I don't think that I will see her again
But we shared a moment that will last til the end.
4:45 pm
- Obsessed
I am obsessed with finding wireless access "HoT SPOTS" for my laptop.

The first step is admitting it. This was first pointed at by my gf, as I would make her drive, and park outside the brooklyn public library, just so i could connect to its wireless network.
Once connected...I download large files from Yousendit.com....mostly full albums that i would never listen to. I don't connect to AIM for fear that it will slow down my connection.

Today, the obsession became even more apparent. I decided to take my laptop on a tour of my apt. building. I walked up the 6 flights of floors, finding several wireless connections that I will most likely use later tonite, while the rightful owners are tucked away in bed.

...And at the end of the day, i declare to anyone who will listen that my laptop is "king."


This is healthy.

I remember sitting in the freezing cold in Bryant Park a few weeks ago with my laptop...
because i was connected to its free wireless access...

And it's not the first time i'm thinking about it.
I think about wireless access....or my laptop...and I smile.

H e l p m e
Thursday, November 24th, 2005
---
1:19 am
- Not just anything Thanksgiving....
So, it has been Thanksgiving unofficially for about an hour now.

A long walk home found me encountering snow flurries, which took my mind off the cold.

Work has been going pretty well. I love work....too bad clients get in the way.
Yes, the HSBC clique has become quite the puissant conclave. There's just something about having a 7 minute conversation with someone while your co-worker stares on at the strange interactions she's witnessing. Then afterwards, explaining, "Oh, that kid's name is Turtle."

Yes, I have been very busy with HSBC...and with video games. Don't really have time for much anymore, although I did make time this past weekend for the grand return of the GIMMER at the Salty Dog! Yes, it was astounding. Although the night as usual ended with us hiding from all the girls who seemed to take an interest in us, I would still say that I came out of the night a better person.
"Wil' Out Son" chants echoed through the bar as did phrases such as "Dat bitch was all blurry-eyed and shit".
Yes, this was an evening of titans. The Ferrari, The Gimmer, Campanya and the sticky one...Housing the Salty Dog like we once did.

As of right now, I probably should be elsewhere, but instead....I think i'm going to unleash my diarrhea, shut off my light, and cry myself to sleep, wondering how it all went sour...






Happy Thanksgiving to one and all.






Daylight Savings fucked with your mind
Thinking you could turn back the time
And the reason why you're trapped:
You try to spring ahead, but fall right back

Now look at the ones you left behind
Some of them, they spring to mind
But the sunlight it don't shine
Daylight Savings...has fucked...with your mind

(insert catchy guitar riff, and boom...#1 hit)

current mood:
Daylight Savings f*d with mind
Friday, November 11th, 2005
---
8:41 pm
- HOUSED from Kristine!
1. When you look at yourself in the mirror, what's the first thing you look at?
I stare deeply into my eyes...and wonder why they're bloodshot. Then I look at my nose to see whether or not, by some miracle, i had grown a second nostril. Then I will take a look at my upper lip and my chin...and wonder why it is, at 22 years of age, I still cannot grow facial hair. But then I step back...and I look at the whole picture...in a narcissistic sort of way.

2. How much cash do you have on you?
I have around 70 in my wallet...the rest is in my HSBC Online Savings account: 4.0%APY, Biatch!

3. What's a word that rhymes with "TEST"?
BREEEEEEEEAST

4. Favorite plant?
HEY! That's my houseplant!

5. Who is the 4th person on your missed call list on your cell phone?
Campanya

6. What is your main ring tone on your phone?
Semi-Charmed Life, 3eb.

7. What shirt are you wearing?
If we were playing shirts and skins, i'd definitely be skins.

8. Do you "label" yourself?
Such a poser, cuzzz

9. Name brand of shoes you're currently wearing?
John Ritterz

10. What do you think about the person who took this survey before you?
Although I've seen her maybe twice in the past 9 years, she's still one of my best friends.

11. Do you know what an 8-track is?
U better believe it.

12. What were you doing at 9pm last night?
Fogging up windows

13. What did your last text message say that you recieved on your cell?
k pudding, call me later.

14. Do you ever click on Pop-ups or banners?
Hardly

15. What's a saying that you say a lot?
Lately? "Tssuuuup" "True" and "Good Man"

16. Who told you they loved you last?
my ex girlfriend, almost two years ago.

17. Last furry thing you touched?
Probably Timmy Timbers.

18. How many hours a week do you work?
40+

19. How many rolls of film do you need to get developed?
I think....I think i developed them all...and was quite disappointed in the results.

20. Favorite age you have been so far?
probably pre-teen, and maybe 19-20

21. Your worst enemy?
Definitely myself

22. What is your current desktop picture?
Autumn

23. What was the last thing you said to someone?
"King...later brah"

24. If you had to choose between a million bucks or to be able to erase all of your regrets, what would you choose?
Always take the money....everybody's got a price.
Sunday, November 6th, 2005
---
10:53 pm
- Tagged by Kristine!
Name 10 things that bring you a moment of joy;

1. Right now, my laptop
2. Stephan Jenkins
3. The girl
4. The BK crew
5. The HSBC crew
6. Wasting money on things i don't need (see #1)
7. Warm days in November
8. Photos
9. Guitar
10. John Ritter sneakers

i would tag people, but i have no friends....
Wednesday, October 26th, 2005
---
11:37 pm
- Aviator
Touched ground in Brooklyn; cold, tired and confused....


...
Sunday, October 23rd, 2005
---
1:10 am
- Lay back and let the water hold you
So tomorrow I go on my first ever airplane ride to BUFFALO with my HSBC crew. To say i'm terrified would be an understatement.

In case I don't see ya, good afternoon, good evening and goodnight.

-Nick
Friday, October 14th, 2005
---
6:18 pm
- HTML Rocks my Sox